Rock Your Hair with Sunset Colors
Love watching a sunset? Think the color combos are simply exquisite? Well, they are. Add a bit of that beauty to your mane by using sunset colors – you can go with a single color to grab the impressive oomph of a blood red sky or blend many colors together to show the nuances of a gradually darkening sky. Here are a few ideas to get your started.
Oh, wait – before you start!
Some tips on rocking the sunset color dyes (especially if you're using many colors):
Start at the top and work your way to the ends
Use a tint brush to apply the dye to small sections of hair
Wearing gloves, blend the colors where they meet (don't forget to wash the gloves between blends)
This will create flowing, blended colors instead of harsh, choppy lines.
Ok, now – on to the ideas!
#1 Subtle & Dramatic Ombre: Violet to Coral
This look was created by Pravana artistic color director Vadre Grigsby. It goes: Violet at the roots, Wild Orchid mid shaft and Coral through the ends.
#2 Dusky & Romantic Ombre: Dark Violet to Orange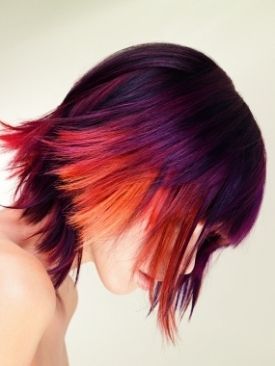 No credits provided for this one, but we love the hint at the sunset – like the night sky has taken over and the sun is just peeking out above the horizon.
#3 Fiery & Impressive Ombre: Orange to Yellow
Made with Vivid Orange neon hair chalk, this look can be copied by anyone. And it'll look great. Just use dark orange at the roots, yellow at the ends and blend them in the middle.
#4 Bold & Daring Ombre: Blue to Red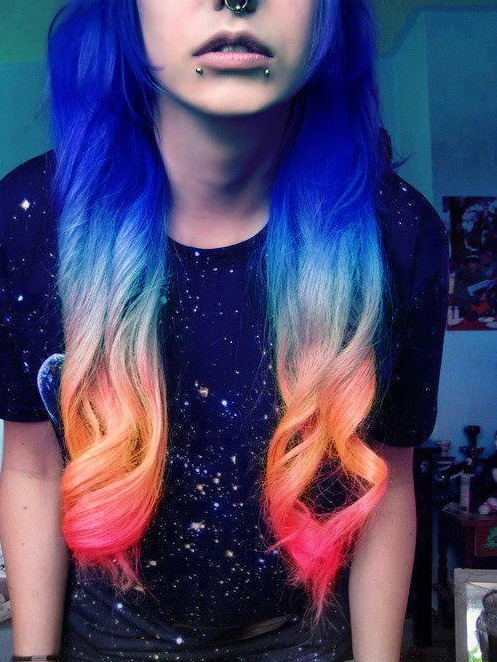 This look, found on Colorful Hair's tumblr, captures the moment just as the sun departs when the last bit of color is holding on. Aim for a dark navy blue at the rooms, a light blue or white mid-shaft, orange and then red (or rose) at the ends. Blend it all together and voilà.
#5 Soft & Radiant Ombre & Streaks Combo: Pastel Blue/Purple to Orange/Red
This beautiful color combo was created by someone who remembered that the sky isn't all bold and daring colors during a sunset – it can be soft pastels and subtle hues as well. For this, aim for pastel purple and blue streaks at the top with bold orange and red streaks at the bottom.
#6 Blazing & Brilliant Highlights: Orange & Pink
No credits were provided as to who came up with this look, but we're happy they did. The combination of orange and pink, set side by side, evokes the streaked sunsets of years gone by.
#7 Flaming & Spectacular Chunks & Streaks: Orange, Red and Yellow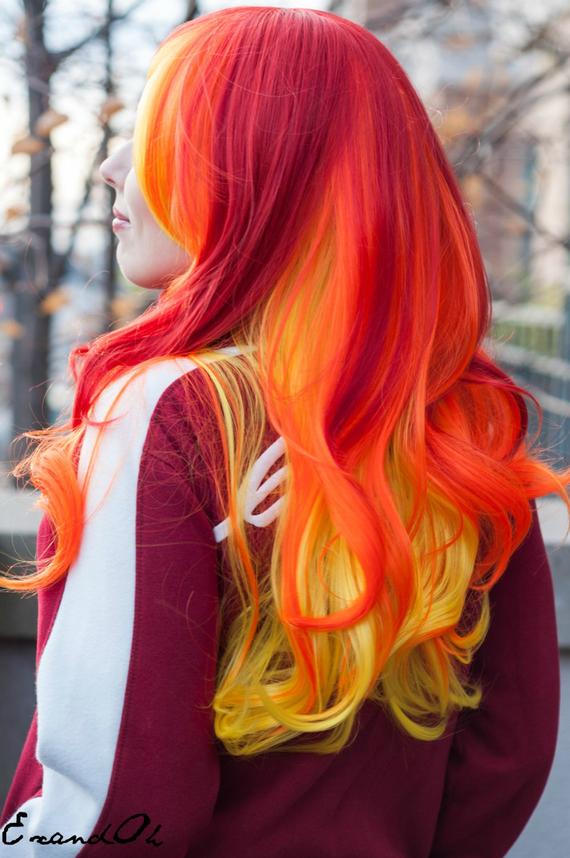 We have to confess – this is a photo of a wig. But the color combo is simply amazing. It blends cherry red, bright orange and lemon yellow perfectly for a sunset style.
#8 Beautiful Phoenix Sunrise
I went ahead and did my own version of sunset hair and I AM ABSOLUTELY IN LOVE IT! I get so many complements and stares! :p You can check out tutorial HERE.
As always 
 & ♥